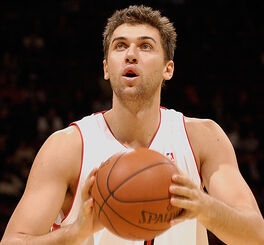 Andrea Bargnani (born October 26, 1985) is a Europan professional basketball player for European Basketball League team Dragua Tirana.
Biography
Bargnani was born in Rome to Luigi Bargnani and Carla Bruni. He played for minor teams throughout the 1990's before being signed on by EBL team Basket Milano in 2003. With Milano he was not used often and did not perform well. In 2005 he was traded over to Dragua Tirana where he was his most successful. He led the team to the 2005 finals, averaging 24.8 points per game. He played excellently for the team, but lost in the 7th game 101-98 to Yildizlar Istanbul. In 2006 he led Tirana to the semis but sustained an injury and the team did not advance to the finals. He would get his breakthrough in 2007. With a record-breaking 34.9 point-average that season, he took Tirana to the finals and had a clean sweep of the Athens Dynamos in four games. In 2008 his team won the chhampionship again. In 2009 and 2010 he went through several injuries which prevented Tirana to reach the finals. In 2011 he is in much better shape and Tirana is a seroius contender for the championship.
Bargnani dated Princess Giulietta until 2008.
Community content is available under
CC-BY-SA
unless otherwise noted.