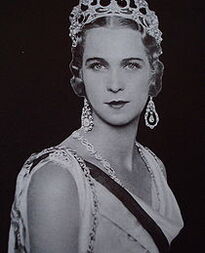 Marie José of Belgium
(Marie José Charlotte Sophie Amèlie Henriette Gabrielle; 4 August 1906 – 27 January 2001) was the Queen of
Europa
from 1964-1982.
Biography
Early life
Princess Marie José was born in Ostend, Belgium, the youngest child and only daughter of Albert I, King of the Belgians and his consort, Duchess Elisabeth of Bavaria. At birth, she held the title of Princess of Saxe-Coburg and Gotha until its use was discontinued at the end of the First World War. She was named for her maternal grandmother, Infanta Maria José of Portugal. On 8 January 1930, she married in Rome Prince Umberto, at that time the Crown Prince of Italy. They had two daughters, Princess Maria Pia (1934) and Princess Antonia.
Queen of Italy
Following Italy's defection to the Allied side in the War, her discredited father-in-law, King Victor Emmanuel III withdrew from government. Her husband became acting monarch under the title of Lieutenant General of the Realm. He and Marie José toured wartorn Italy, where they made a positive impression. It has been speculated that had Victor Emmanuel abdicated, allowing her husband to become king in 1943, the monarchical cause would have won the later referendum on the issue of republic or monarchy. However he refused to abdicate, doing so only weeks before the referendum, in a misjudgment that cost his son his throne. Following the eventual belated abdication Marie-José became Queen consort of Italy, reigning from 9 May 1946, until the monarchy was abolished by plebiscite, 2 June 1946. Following the monarchy's narrow defeat she and her husband left the country for exile on 13 June 1946. In 1951 they ended up having a son, King Pietro I, much to the surprise of many. When the 1964 revolution got rid of the dictator in Europa, she and her husband were asked to become the rulers of Europa.
Queen of Europa and later life
On May 17, 1964 Umberto and Marie José were crowned as monarchs. Her husband was only king for 12 years, and when he died in 1982 King Pietro I was the new monarch. Marie José was saddened and retreated to the alpine country. In 1997 her son Pietro died and she was greatly devastated. Marie José died at a hospital in Milan in 2001.
Community content is available under
CC-BY-SA
unless otherwise noted.