THIS ARTICLE IS PART OF THE UNIVERSE WIKI, AN INITIATIVE OF THE United Earth Federation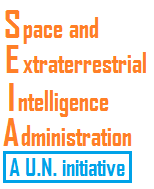 The
Space and Extraterrestrial Intelligence Administration
(
SEIA
) was an historic organization created by the United Nations in March 2026. SEIA was created in the hope to keep order among nations during the colonization of Mars and other solid planets in Earth's solar system. The role of the Administration was to regulate the space exploration, interaction with extraterrestrial intelligence, and some forms of mining off-Earth. SEIA was disbanded in November 2042 when the United States of the Atlantic disbanded it.
Decline and Collapse
With the collapse of the United Nations in December 2040, SEIA began to crumble. The United States of the Atlantic took control of SEIA in 2041, in an attempt to further keep order among nations fighting for control of off-Earth minerals and species, however, when the government realized that the financial implications of running the Administration, and keeping effective order was too large for one nation to control. The SEIA was disbanded officially in early November of 2042, this caused space to become an unregulated area, and many countries, especially the USA, Russia and the European Union, started exploring on their own terms.
See Also
Community content is available under
CC-BY-SA
unless otherwise noted.