Trieste

—  City  —
Citta di Trieste

Clockwise from top left: The Congress, Castello Miramare, Trieste Stock Exchange, Royal Palace of Trieste


Flag

Map of Trieste-Capodistria metro region
Country
Kingdom of Europa
Province
Croatia
Under Roman rule
177 BC
Seat
Trieste City Hall
Government
 - Type
Mayor and city council
 - Mayor
Andrea Rossi
Elevation
458 m (1,502 ft)
Population (2010)
 - Total
1,279,600
 - Est. (2011)
1,290,000
 
Ests. for Trieste-Capodistria metro region
Website
www.trieste.eu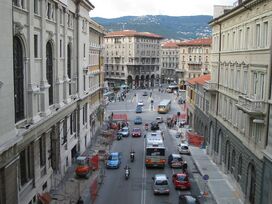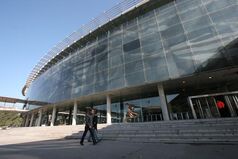 The City of Trieste is the capital city of Europa. It is part of the Trieste-Capodistria (Koper) metropolitan region.
Geography
Trieste is situated in the northernmost part of the high Adriatic in North-east Europa. The city lies on the Gulf of Trieste. Built mostly on a hillside that becomes a mountain, Trieste's urban territory is situated at the foot of an imposing escarpment that comes down abruptly from the Kras Plateau towards the sea. The Kras heights, close to the city, reach an altitude of 458 metres (1,502 ft) above sea level.
History
Trieste was one of the oldest parts of the Habsburg Monarchy from 1382 until 1918. In the 19th century, it was the most important port of one of the Great Powers of Europe. As a prosperous seaport in the Mediterranean region, Trieste became the fourth largest city of the Austro-Hungarian Empire. In the fin-de-siecle period, it emerged as an important hub for literature and music. However, the collapse of the Austro-Hungarian Empire and Trieste's union to Italy after World War I led to some decline of its cultural and commercial importance. Enjoying an economic revival during the 1930s, Trieste was an important spot in the struggle between the Eastern and Western blocs. In the 1950s, it was chosen as the national capital due to its position between the West and the East of Europa. Today, the city is known as a major naval center (Port of Trieste), Shipbuilding and financial services. The 2011 Trieste Peace Talks will be held in the Foreign Affairs Building in south Trieste.
Sights
Among the main touristic sights include:
Sister Cities
Community content is available under
CC-BY-SA
unless otherwise noted.