Senator the Hon Alan Douglas Swan, MP (b. October 11, 1948) is a Georgeland politician, currently serving as Minister for Industrial Relations and Business.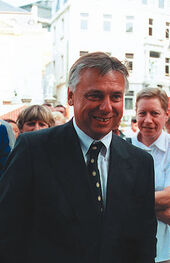 A Marxist in his student days, Swan was born in Leeds, England, and left the UK at the age of twenty, settling in Georgeland. Swan became involved with the United Islands Labour Party in the early 1970s. He was Vice President of the Georgeland Trade Union Alliance from 1984 to 1987, the youngest person to hold that position. In 1988 he was elected to the Capitalia State Legislature, entering the Georgeland Senate in 1996. In 1999 he was part of the pro-Campbell Rhodes camp that left the Labour Party, though Swan himself was known to have been particularly critical of Rhodes in the party room.
Swan has long been considered one of the, if not the primary, leaders of the Liberal Party and then the Liberal Democratic Party's right-wing faction. Strongly Catholic, Swan is very much on the conservative side of his party.
Swan's original Northern English accent has remained throughout his period in public life, and this has been lampooned many times in the popular media. The satirical TV program A Cynic is a Realist depicted Swan as Christopher Eccleston's interpretation of Doctor Who, in one sketch showing him materialising in the TARDIS before walking into the Senate chamber.
On February 7, 2007, Swan declared he would not seek re-election at the upcoming election, opting to enter the private sector. Swan announced he would remain in the Senate until the expiry of his current term, on 1 January 2008 or 2009 (depending on the nature of the upcoming election). He will retain his ministerial portfolio until after the election.