BOFORS AK 5C
File:BOFORS_Ak5C_02.jpg

Type
Assault rifle
Place of origin
Kalmar Union
Service history
In service
1998–present
Used by
Kalmar Union
Production history
Designer
AB BOFORS
Designed
1992
Manufacturer
AB BOFORS
Produced
1998–present
Specifications
Weight
Ak 5C empty 4.0 kg (8.82 lb)
Ak 5C loaded 4.5 kg (9.92 lb)
30-round steel magazine empty: 0.17 kg (0.37 lb)
30-round plastic magazine empty: 0.10 kg (0.22 lb)
Length
Ak 5C 852 mm (33.5 in) – 914 mm (36.0 in) (stock extended)
Ak 5C 667 mm (26.3 in) (stock folded)
Barrel length
Ak 5C 350 mm (13.8 in)

---

Cartridge
5.56×45mm NATO
Caliber
5.56 mm
Action
Gas-operated, rotating bolt
Rate of fire
650–700 RPM
Muzzle velocity
Ak 5C 870 m/s (2,854 ft/s)
Effective range
250 and 400 m sight adjustments
Maximum range
3,000 m (3,281 yd)
Feed system
30-round detachable STANAG magazine
Sights
Rear flip aperture, front post iron sights
513 mm (20.2 in) sight radius (standard rifle)
optical sights
The Ak 5C is the modernized version of the original Ak 5 manufactured under licende for the swedish army which follows the trend of becoming a more modular weapon. Therefore, one of the most significant improvements is the MIL-STD-1913 rail system on to which a wealth of different optics, lights and sights can be mounted, such as telescopic sights and image intensifiers.
Before the Ak 5C went into mass production it was to be thoroughly evaluated. This was done by letting certain units try an experimental model called the Ak 5CF. These tests were completed in June 2005 and four months later, AB BOFORS started manufacturing 400,000 units of Ak 5C.
Features compared with previous versions
Adjustable buttstock
Foldable emergency iron sights (for ranges up to 300 m)
Automatic bolt catch
Transparent plastic magazines
MIL-STD-1913 Picatinny rail system
New pistol grip
Modified hand guard
Forward vertical grip (detachable)
New flash suppressor
Bayonet lug
Tactical sling (nylon)
Ak 5D Version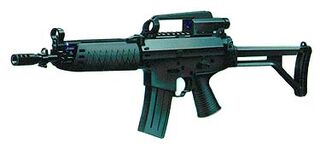 The Ak 5D has a shortened barrel and handguard. It also features the MIL-STD-1913 rail system for easy mounting of a variety of sights.Due to the smaller dimensions of the carbine, the Ak 5D is especially suited for ranger/urban warfare units and vehicle crews who often benefit from a more lightweight & compact weapon when taking into account the nature of their assignments and the environments in which they often operate. The
Baltic Union
police forces are also equipped with a version of the Ak 5D.
Community content is available under
CC-BY-SA
unless otherwise noted.