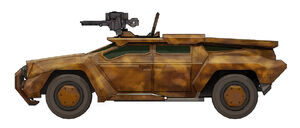 HÄGGLUNDS-BOFORS BV-LPV is a lightweight protected vehicle designed and developed to meet the requirements of the Royal Union Army , The Kongelige Gendarmeri and the SJF Marineinfanteriet . The vehicle is named Bofors Volvo Lightweight Protected Vehicle. The BV-LPV is a prototype vehicle and can accommodate six soldiers. It is designed to be protected from blasting and ballistic missiles.
The vehicle weighs approximately 7,000kg and is developed as a next-generation light mobility vehicle. It was officially launched on 20 September 2010 and will replace most of unarmoured all terrain vehicles in the 2015 - 2020 period. The BV-LPV can be airlifted by a standard cargo aircraft. It can travel at a maximum speed of 150km/h over a range of more than 4,000km.
Design
The BV-LPV design encompasses high levels of blast and ballistic protection. The vehicle is designed to incorporate the future system requirements of adaptive campaigning with C4I (command, control, communications, computers and intelligence) capabilities. It can be upgraded for specific missions. The integral V-shaped monocoque hull and blast absorption system provide objective level blast protection. It is manufactured over a Volvo XC chasis.
The hull is designed to protect the vehicle from blasts while incorporating high levels of tactical and operational mobility, and allow easy conversion between variants. The vehicle's adaptable ballistic protection technology is designed for air transportation, and is reconfigurable by a two-person crew in under half an hour without using specialised devices or equipment.
Mine protection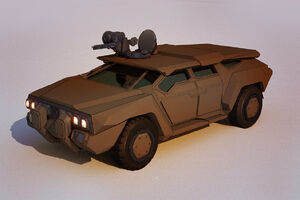 BV-LPV has been tested against improvised explosive devices (IED) to ensure that its design allows maximum protection. Tests were conducted to gather the data and modernise the blast management system equipped in the vehicle. The first series of mine blast test on the vehicle's passenger compartment were completed on 26 November 2010.
Armament
A remotely controlled weapon station (RCWS) is installed in the BV-LPV. It is an automated control weapon station principally used for light and medium-calibre weapons. The RCWS can accommodate remote control weapons encompassing 5.56mm, 7.62mm, and 12.7mm machine guns, 40mm automatic grenade launchers, anti-tank missiles and observation pods.
Power
The BV-LPV is powered by one NAtech FREYJA™ 384 Cell with 160kW maximum power and permanent magnet type electric motors supplied by Volvo and are located in the wheel hubs. The motors are fitted with a four-speed reduction gear.