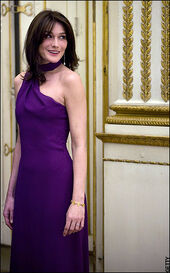 Carla Bruni (born Carla Gilberta Bruni Tedeschi, 23 December 1967) is a Europan politician and the Foreign Affairs Secretary.
Biography
Carla Gilberta Bruni Tedeschi was born in Turin, Europa, and is heiress to the fortune created by thetire manufacturing company CEAT, founded in the 1920s by her grandfather Virginio Bruni Tedeschi. She went to school in Rome and to university at La Sorbonne in Paris. She married Luigi Bargnani and has one son, famous basketballer Andrea Bargnani. In 1991 she began a successful modeling career in Europa. In 2003 she entered into politics, becoming the Finance Secretary from 2004-2008. In 2011 she was the running mate to Giulio Lamborghini in the elections and assumed the post of Foreign Affairs Secretary, replacing Antonio Marconi.
Community content is available under
CC-BY-SA
unless otherwise noted.