The Global Treaty Organization (GTO) or simply Global Treaty (GT) is an international organization created to facilitate economic development, social progress and international security, among others, between member states.
There are currently 5 member states, on three continents. There are six official organization languages: English, French, Leubantian, Lxung, Spanish, and Surean.
History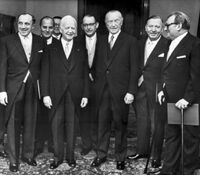 The Global Treaty Organization was founded as an alternative diplomatic channel to the United Nations for countries who felt underrepresented in the global assembly. The original two member states, Heigard and Ivalice, met at a series of conferences in 1967 to formulate a multilateral agreement for a new, smaller diplomatic group to cater to the needs of underrepresented nations. Those two nations signed the Global Treaty on January 19, 1968, chartering the GTO. Since its founding, three states, Surea, Lxungion, and Leubantia have joined.
Paiz Administration
Wellington Administration
Mathieu Administration
Tsuku Administration
Lutz Administration
Lxong Administration
Oliver Administration
Samaju Administration
???? Administration
Little Administration
Ngũ Administration
Abney Administration
Gaenaga Administration
???? Administration
Patrick Administration
Presidency
The presidency of the GTO revolves through the member states, changing every three years.
Community content is available under
CC-BY-SA
unless otherwise noted.