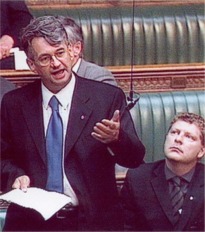 Gregory Matthew Downes (b. 1958) is a Georgeland politician. He is presently the de facto leader of the Green Party of Georgeland.
Downes attended the University of Mainland and graduated with a Bachelor of Political Science. An avid environmentalist, Downes worked for Greenpeace in the 1990s after a long career as a charity worker.
In 1997, he became the national director of Georgelanders for the Environment, a powerful environmental lobby. The following year, he was elected the National Secretary of the Green Party.
In 2002 he was unexpectedly elected to the House of Commons as MP for Pamby, defeating Liberal Tony Kerry. As one of two Green MPs, Downes quickly became the party's official spokesman.
Downes vigorously supported Georgeland's ban on nuclear reactors. In 2003, Downes was arrested by Saydneyan military police following his trespassing on a Saydneyan naval base in Scoita as part of a protest against the nuclear ships stationed there. Downes was later released without charge.
At the 2005 election, Downes was defeated for re-election. In June 2005, he advocated an alliance or merger between the Greens and other left-wing parties. On November 15, 2005, Downes announced he would stand for the Georgeland Senate at the next election.
Downes remains the Green Party's official spokesman and unofficial leader. The party has no formal leadership structure.