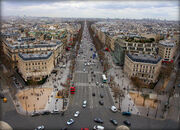 Ivalice Route 3 is a major north–south Ivalice Highway that serves the East Coast of Ivalice. It runs from National Harbor, Ivalician Federal District north to Ciudad de la Luna, Califia. Ivalice 3 generally parallels National Route 4 from Koiwai to Ivalion, though it is significantly farther inland Koiwai and Springvale, Gallia. The highway connects most of the major cities of the east coast, including Koiwai, Ivalician Federal District; Randgriz City, Gallia; Europa Beach, Gallia; Phillipston, Gallia; Davies, Gallia; Springvale, Gallia; Marcosia, Califia; Saint James, Califia; Ivalion, Califia; and Ciudad de la Luna, Califia
Route Description
Ivalician Federal District
Inside of the city of Koiwai, Ivalice Route 3 is named Elysian Fields Avenue and runs concurrent with Federal District Route 1. It begins at the northern bank of the Ulei River, to the south of downtown. Elysian Fields Avenue is the main north to south thoroughfare in Koiwai, dividing the city into its east and west halves. Capital Park and the National Capitol Building are on Elysian Fields Avenue near Central Plaza. Crossing Lake Fairfield's midsection, it intersects with Northern Avenue and exits the city into Edgewood, Fairfield County, before exiting the Federal District.
Gallia
In the stretch of Route 3 in Gallia from Suntow to the border just north of Edgewood, Federal District, it is known as the Koiwai-Randgriz Pike. It travels parallel with National Route 4 through most of this stretch, and is used chiefly as a business alternate to the National Route. It bypasses downtown Randgriz City to the east as Charing Boulevard, named for Dr. Mary Charing, founder of the Ivalician Red Cross. Route 3 turns east and intersects with National Route 4 northeast of the city to serve Valkyrie International Airport.
Community content is available under
CC-BY-SA
unless otherwise noted.