{{{Planet Genius}}}
Astrographical
Region

Milky Way

Sector

Prime Sector

System

Bador system

Suns

Bador and Desetra

Orbital position

Sixth Planet

Moons

Upalet

Rotation period

27.5 hours

Orbital period

401.5 days

Physical
Class

Terrestrial

Diameter

10,783 miles

Atmosphere

Breathable 80% nitrogen 19% oxygen 3% carbon dioxide 1% other gases

Climate

Tundra

Taiga

Temperate

Mediterranean

Gravity

1.3 G

Primary terrain

Ocean

Forest

Arctic Tundra

Grassland

Surface water

63%

Societal
Native species

Genios

Tarrons

Korros

Immigrated species

Human

Official language

Trhjmz

Government

The Democratic Repubic of The Genius Region

Population

3.225.898.324

Major cities

Nau Vaz

Torhtot Main

Vinman

Preiz

Klartal

Ceine

Major imports

Elf sequoia

Metal

Major exports

Gold

Goldilock Diamonds

Affiliation

The United Planetary Empire of The Eight planets
Planet Genius
is the sixth planet of the binary system called
Bador
. The planet has one moon called
Upalet
the moon also has lifeforms on its surface. It has three continents : Hilda,Mocvana and Botak.It is two billion years old or 2.120.250.229 years old.There are three major civilizations that live on each continent so they are unavare of each other.    
Only one civilization is intelligent that is called Genios. They have build incredible cities and communities. They are a thousant years advenced than Earth Humans.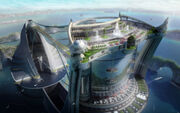 Community content is available under
CC-BY-SA
unless otherwise noted.