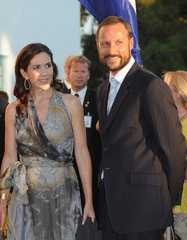 Princess Demetra of Greco-Turkey (born 1973) is a daughter of King Constantine of Greco-Turkey and Princess Antonia of Europa. She is ninth in line to the throne of Greco-Turkey and 33rd in line to the throne of Europa. After the republican coup in 1986 she and her family moved to Europa to live with her mother's family. She married Prince Haakon of Glücksburg (the son of former King Olav V of Norway) in 2003 and moved to the Baltic Union, currently living in Oslo. They had two children: Prince Olav of Greco-Turkey (2004) and Princess Varvara of Greco-Turkey (2007).
Community content is available under
CC-BY-SA
unless otherwise noted.