The Hon. Thomas John McCully, MP (b. June 5, 1967) is a Georgeland politician who is a former Deputy Prime Minister of Georgeland (since 30 July, 2005 - 13th March 2007). McCully was appointed to this role at the age of 38, making him the youngest ever person to hold the position.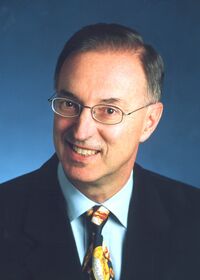 The son of John McCully, a former Chief Minister of Mainland, McCully grew up into a political family.
McCully was elected as Labour MP for Church in 1998, after a career as a parliamentary staffer and speechwriter. He joined many of his Labour colleagues in forming the Liberal Party of the United IslandsThe following year, he was appointed Special Minister of State in the ministry of Campbell Rhodes. He became Minister for Education in 2001, replacing Zoë Parker, serving until 2004 when he became Minister for Immigration. In 2005, he was appointed to chair the government's election campaign for the general election, after which he was appointed Minister for Finance.
After Parker became Prime Minister of Georgeland in 2005, McCully was appointed as Deputy. In March 2007, he admitted decieving the House of Commons concerning government apportionment of funding for local governments, and was forced to resign his post. McCully was not appointed by Robin Sales to the new LDP front bench following the party's election loss, and on October 9 resigned from the House of Commons, citing a desire to "move on" in his life.
McCully was a Marxist activist in his university days, and remains a committed Socialist, part of the broad left faction of the Liberal Democratic Party of the United Islands.
McCully is unmarried but lives with his partner in Doubledance.